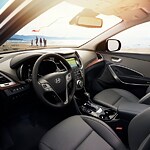 Hyundai knows that its popular three-row crossover SUV the Santa Fe XL will primarily be used as a family vehicle. With this in mind, they had to strive to make the Hyundai Santa Fe XL as safe as possible.
One safety feature that is great for the weather we get in Panama City, FL is the active cornering control all-wheel-drive system. This system will increase the Santa Fe XL's grip in all situations, no matter if you are cornering or if you are plowing through a snowstorm. Another great feature you can find on the Santa Fe XL is its automatic emergency braking. This system can detect when a crash is about to happen and automatically apply the brakes. The can help to avoid accidents or at least lessen their severity.
Keeping you and your family safe while you're on the road is important to Hyundai. To explore all of the family features of the Hyundai Santa Fe XL, you can stop by Bay Hyundai and take it out for a test drive.