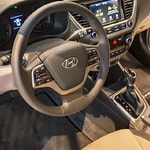 The Hyundai Accent is a powerful, versatile subcompact sedan that can handle highways and urban streets. It practically glides over the asphalt and gives you a suitable amount of mileage for your fuel.
The Hyundai Accent is powered by a 120 horsepower four-cylinder engine with a capacity of 1.6 liters. This strong engine can be twinned with a continuously variable automatic transmission or the standard manual transmission with six speeds. The continuously variable automatic transmission is the more fuel-efficient option, netting a fuel economy of 41 miles per gallon on the open highway.
With front-wheel drive and easy handling, the Hyundai Accent is the type of sedan that makes merging and turns simple, even for tentative drivers. The brakes are responsive even when the driver is slowing down after an initial acceleration.
Stop by Bay Hyundai today to take the Hyundai Accent for a spin.